Let's be honest here, there is hardly anyone who hates The Addams Family. The movies and tv series remains a reminder of one of our best childhood days. While growing up, a lot of us had our eyes glued to the television screen and found the series to be equally funny and scary. I personally have lost the number of times I have laughed till I had tears in my eyes or hid my face inside the pillow. Now, how does it sound when we tell you that you can own a pair of shoes themed around your favorite kooky family? Sounds perfect, doesn't it?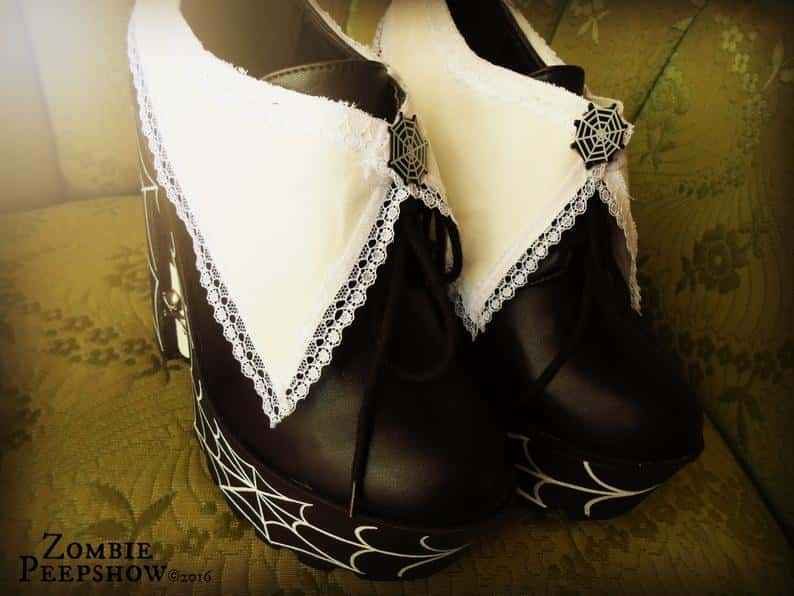 An artist on Etsy is selling these stunning handcrafted red pumps which are inspired by Morticia Addams and we still cannot get over how intricately detailed the rose work is. But your surprise has not ended here. The artist has also gifted the fans of The Addams Family with this gothic-style boot, which is designed keeping Wednesday Addams in mind. It has a tiny bottle of poison as an added accessory and also comes decorated with metal studs and spikes and a very carefully detailed Wednesday Addams collar. The bottle is attached to the shoes with spider webs, the same thing that Wednesday Addams loved so much. You can get the Wednesday Addams themed boots of $180 but the price for the Morticia Addams inspired pumps will set you $275 back. If you find it hard to pick either of them, then you can always think of it as an investment, (since it would look totally cool with your already amazing collection) and buy both.
Seller kaylastojek's description of the red pump reads, "These Zombie Peepshow "Morticia" platform pumps are hand-painted and covered in black sequin lace. Each shoe features assorted red crystal, hand-cast miniature skull bat pieces, and sculpted rose features. They were custom made for a client so each pair I make will have slight variations (ie. varying crystal and rose detail, a slight change in lace application, etc.) so that no two pairs are the same."
Whereas the description of the boots read, "These Zombie peepshow "Pick Your Poison" platform Wednesday Addams boots feature spikes, collars, poison bottles, and spider web paint detail. These were custom made for a client, so each pair I make will be different. The final product you receive will have slight variances (ie, positioning of spikes, varying size/shape bottles, webs, paint, etc.) so that no two pairs of boots are the same."
Last year, The Addams Family released an animated movie. The voiceover for the Gomez Addams was done by Golden Globe winner Oscar Isaac and Morticia Addams was voiced by Academy Award Winner Charlize Theron. Chloë Grace Moretz has lent her voice to creepy Wednesday Addams, Finn Wolfhard played Pugsley Addams and Bette Milder voiced fan-favorite Grandma. The official synopsis of the movie reads, "The Addams family whose lives begin to unravel when they face-off against a crafty reality-TV host while also preparing for their extended family to arrive for a major celebration, Addams-style. Morticia, devilishly devoted to her husband and children, is the pale glue that holds her clan together. Gomez, debonair, sinister and passionately in love with his wife, is enthusiastic about whatever dreadful scheme he's cooked up." Always stay weird Addams, always stay weird.