If you are a fan of American Horror Story: Coven, then you must remember the character of Marie Laveau, played by the insanely talented Angela Basset. AHS: Coven is one of the most-watched seasons from the horror anthology series and since the show was filmed in and around New Orleans, there are some hidden places of the city that you will find absolutely enchanting. Did you know that the iconic house where Marie Laveau aka Angela Bassett lived and cast spells actually exists? Not only that, but the entire house is also available on Airbnb for people to rent and you get to live your dream.
Constructed in 1855, it is said to be one of the scariest houses in the world. If you want to channel your inner witch and be brave enough to stay where the Voodoo Queen lived, then look no further. The house is huge and a part of it is decayed, which only lends to its deliciously spooky factor. The house was originally constructed for Louise Vitry and her French consort, Archille Courcelle, where they also kept their seven slaves. This listing on Airbnb holds a special place in the heart of Hollywood. It has also been used in various shoots including American Horror Story's Coven.
The stay will set you back by $317/night, but can easily accommodate six guests. The mansion comes with three bedrooms and bathrooms. Although it is a pretty old building, guests who have stayed here have vouched for its cleanliness stating that it is 'sparkling clean'. The listing describes the property as, "855 Creole House belonging to a Free Woman of Color within walking distance of the French Quarter in the Historic Treme. House is a step back in time to 19th Century New Orleans with grand proportions, 14-foot ceilings, original fireplaces, mahogany staircase, ceiling medallions."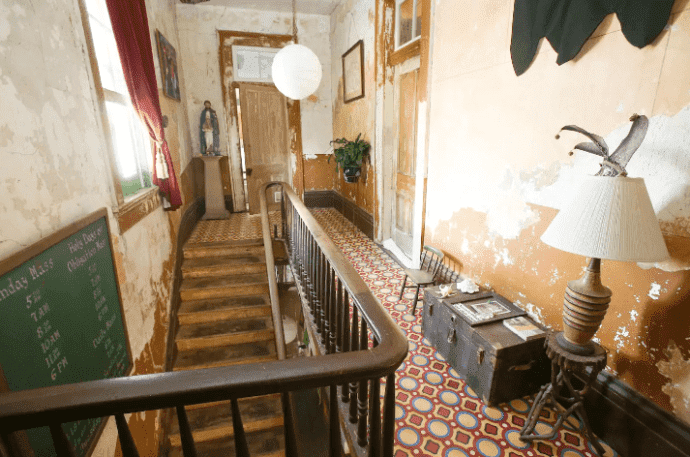 It continues, "House is 10 block walk to the Quarter or $6-8 cab ride (one way). House is exactly 1 mile to Jazz Fest Fair Grounds, 7/10 mile to downtown and less than a mile and a half from City Park/Voodoo Fest. Most of the bedrooms and amenities are set on the second floor for your comfort. A large master bedroom queen size bed, a 2nd bedroom queen size bed and a large guest bedroom-living room (the blue room in the photos) with a sleep sofa and a queen air mattress. Spacious kitchen-dining room and two full bathrooms upstairs. Downstairs a 3rd bedroom queen size bed and a 3rd full bathroom."
The listing further adds, "The upstairs sitting room connects to both side and front balconies that catch the breeze with incredible views of New Orleans downtown skyline and the back of the Armstrong Park Sign, especially at night. Perfect for evening cocktails. Extra big double parlor downstairs with sofas and chairs. House is 3,700 square feet plus the balconies and garden so there is plenty of room for a group to move around without stepping on each other's toes."
Apart from everything else that we have already mentioned above, the house also comes with wifi, kitchen, TV, and a massive garden. To stay, book your dates here.