Previously, we introduced our readers to a plethora of Nightmare Before Christmas products like lamps, string lights, shoes, heels, and even a gorgeous engagement box. But did you know there is a crochet pattern available in the market based on Nightmare Before Christmas characters? Yes, you read that right. Now is your chance to crochet your very own characters from The Nightmare Before Christmas and I am squealing with excitement. So if you are feeling bored at home because of the lockdown, how do you feel taking up crocheting as your new hobby?
Sold by an Etsy seller named SquarepigCrochet, this crochet pattern is truly a dream come true. The pattern is available for Jack, Sally, and Zero and we are hoping that they will soon come up with crochet patterns for other characters from the Tim Burton holiday classic. Priced at $10.64, the product description reads, "Please notice that this listing is for the PATTERN ONLY, not for the finished item. This is a detailed, easy to follow pattern with clear pictures and explanations, the pattern is WRITTEN IN ENGLISH."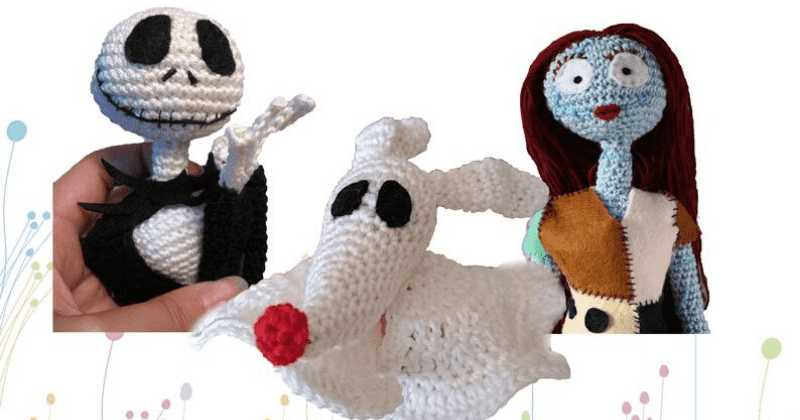 This pattern is perfect for all "crochet lovers who are acquainted with the basics of crochet." But before you buy this product, the seller lists some basic necessary skills that you must have, which are, "chain stitching, single crochet, double crochet, increase, decrease, slip stitch, knows how to do crochet rounds, and how to assemble parts together." The seller also mentions in the product description, "This crochet pattern is available for Instant Download. When your payment is completed you will receive an email with all the information needed to download your file. This email will be sent to the email address connected with your Etsy Account."
In order to read the pattern, you will need an Adobe Reader. You can get the product right here. Needless to say, people were thrilled to see this crochet pattern and left positive reviews.
One person wrote, "Easy to read pattern for the Jack/Zero/Sally bundle. The characters are about 18" long for Jack/Sally. Would recommend this seller." A second one added, "Can't wait to make these!" Another user said, "Well written, clear instructions. Nice shop to deal with." Would you be getting one for yourself? Let us know!
Nightmare Before Christmas is a 1993 American animated fantasy Christmas movie produced by Tim Burton and directed by Henry Selick. The movie tells the story of Jack Skellington who is the king of Halloweentown, as he stumbles through a portal to "Christmas Town" and decides to celebrate the holiday. The movie originated as a poem written by Burton in 1982 when he was working as an animator at Walt Disney Productions.
Upon its release, Nightmare Before Christmas met with a lot of success, from critics and audiences alike. It was also the first animated movie to be nominated for the Academy Award for Best Visual Effects. The synopsis of the movie reads, "Jack Skellington, the pumpkin king of Halloween Town, is bored with doing the same thing every year for Halloween. One day he stumbles into Christmas Town and is so taken with the idea of Christmas that he tries to get the resident bats, ghouls, and goblins of Halloween Town to help him put on Christmas instead of Halloween -- but alas, they can't get it quite right."